Description
Whole Lamb Leg
Whole Lamb Leg comes from the hind legs of the lamb. It is a large cut of tender meat which is generally cooked in a dry heat such as roasting. It has little to no fat through the actual product but does have fat coverage over it. For best results roast at about 160-180 degrees Celsius for 25-30 mins per 500 grams and allow to rest for at least half the cooking time.
Italian Roast Leg of Lamb:
Roasted Leg of Lamb:
Serves 4-6
Total time: 2 hr 30 min

Prep Time: 45 

min

Cook Time: 55 min
Ingredients for Lamb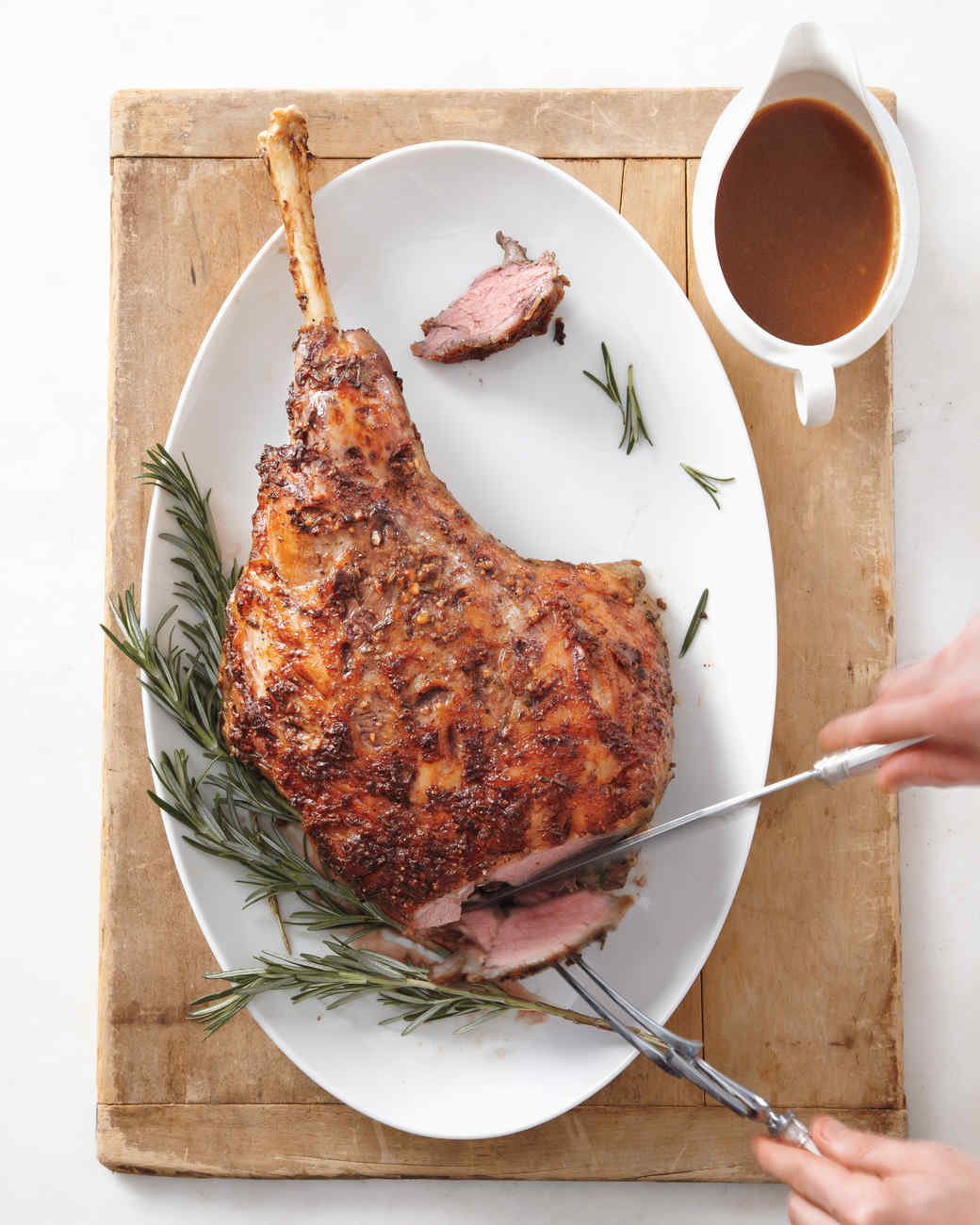 2 tablespoons coarse salt
2 teaspoons freshly ground pepper
1 bone-in leg of lamb,

2 tablespoons minced garlic

2 tablespoons chopped fresh rosemary leaves, plus sprigs for garnish

1 cup chicken broth or water

2 tablespoons Dijon mustard

2 tablespoons extra-virgin olive oil
Ingredients for Gravy 
2/3 cup dry red wine

1 1/2 cups chicken broth, divided

1 tablespoon plus 1 teaspoon all-purpose flour
Method
For the cleanest-looking presentation, trim 1 1/2 inches of flesh from the shank bone with a sharp paring knife. (Ask our friendly butchers to do this for you.)

Trim the excess fat that lies beneath the fell, but leave enough to enrich the meat and gravy. It also crisps up nicely when broiled, which helps give the carved slices great texture. Use shears to trim the fat pads around the hip, or large end.

Make incisions 1 inch long and 1/2 inch deep all over the leg; they?ll allow the aromatic rub to penetrate the meat more easily. Roughening the surface in this way also results in a crisper, more flavorful crust after broiling.

Stir together salt, pepper, garlic, rosemary, mustard, and oil in a small bowl until it forms a wet paste. Spread rub evenly over lamb, working it into the incisions. Let lamb sit at room temperature, about 30 minutes. Meanwhile, preheat oven to 220 degrees Celsius .

Transfer lamb, fat side up, to a large roasting pan fitted with a rack, and add broth. Roast lamb 20 minutes. Reduce temperature to 160 degrees C, and roast until a thermometer inserted into thickest part of flesh near the bone reaches 55 degrees C to 60 degrees  C (medium-rare), about 55 minutes. Increase temperature to broil; broil until surface sizzles and becomes brown and crisp, about 5 minutes. Transfer lamb to a platter or carving board; let rest at least 20 minutes before carving.
This recipe was used from martha stewart.com:
http://www.marthastewart.com/967963/roasted-leg-lamb
Contact M & M Master Butchers for advice on this: