Description
Free Range Size 16 Chicken
Free Range Size 16 Chicken has a weight of about 1.6 kilograms and are ideal for serving a family of six. Ideal for cooking in the oven, slow cooker or on the rotisserie BBQ. If you willing to try something a little different, stuffing a beer can in the bottom is a great alternative to stuffing. This allows the chicken to stay moist, and the alcohol burns off with the heat.
Beer Can Chicken:
Slow-Cooker Rotisserie-Style Chicken:
Serves 4-6
Total Time: 2 

hr 50 min

Prep Time: 10

 

min

Cook Time: 2 hr 40 min
Ingredients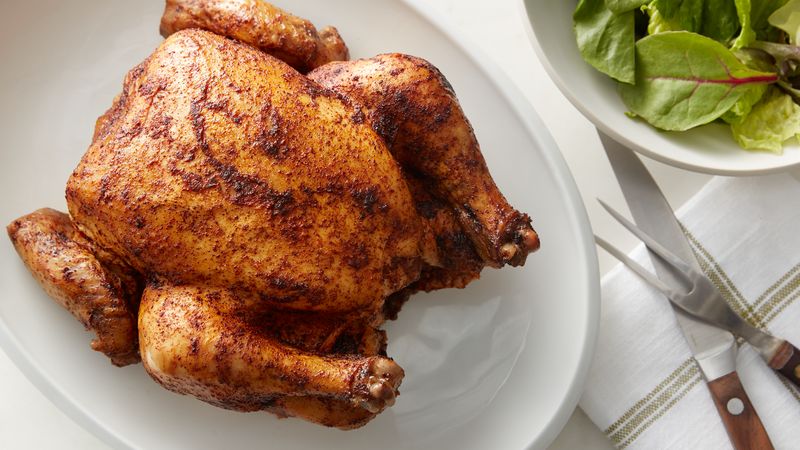 2 tablespoons packed brown sugar
1 whole size 14 chicken
2 teaspoons chili powder
2 teaspoons salt
Method
Spray 5-quart oval slow cooker with cooking spray.

In small bowl, stir together brown sugar, chili powder and salt.

Pat chicken dry, both inside and outside, with paper towels. Rub chicken all over with brown sugar mixture.

Place chicken, breast-side up, in slow cooker.

Cover; cook on High heat setting 2 1/2 to 3 1/2 hours or until legs move easily when lifted or twisted and thermometer inserted in thickest part of inside thigh reads at least 165°F. Remove chicken from slow cooker; let stand 10 minutes before serving.
Tips for handling and cooking Chicken:
 Make sure you defrost/store in the fridge on the bottom shelf to prevent leakage. Do not defrost in the mircowave or bench as the chicken will reach a unsafe temperature.
 Avoid cross-contamination by using separate utensils until cooked. Once cooked do not use utensils that were used prior to cooking unless they have been washed thoroughly.
 Cook chicken to atleast 75˚C, use a meat thermometer and insert into this thickest part of the chicken insuring you have reach the desired temperature.
 Make sure there is no blood when your cut into it and the juices are clear.
This recipe was used from bettycrocker.com:
https://www.bettycrocker.com/recipes/slow-cooker-rotisserie-style-chicken/
Contact M&M Master Butchers for advice on this product here: