Description
Fresh Free Range Chicken Thighs Bone-In
Free Range Chicken Thighs come top portion of the leg above the knee joint that is connected to the body of the chicken. This is considered all dark meat with some fat content which is hard to over cook and dry out. Marinated chicken thighs on the BBQ or in the oven for a quick and easy meal. Or you could also slow cook them for a tender warm winters meal.
Crispy Tender Baked Chicken Thighs:
Korean Roast Chicken Thighs:
Serves 8
Total Time: 1

 

hr 10 min

Prep Time: 10

 

min

Cook Time: 1 hr
Ingredients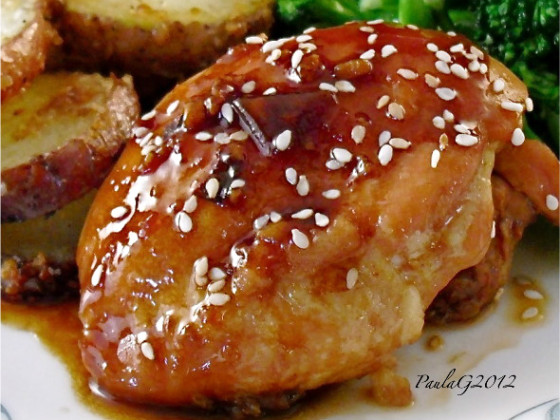 8 chicken thighs, skin on
1⁄2 cup soy sauce
1⁄2 cup minced green onion
3 tablespoons sesame oil
3 tablespoons honey
2 teaspoons minced garlic or 1⁄4 teaspoon garlic powder
1⁄4 teaspoon ground ginger
1⁄4 teaspoon black pepper
Method
Preheat oven to 180 degrees Celsius.
Place chicken skin side down in a large baking dish.
Combine the remaining ingredients in a bowl and then pour on top of the chicken.
Bake uncovered for 45 minutes.
Turn the chicken over in the dish and bake for another 15 minutes.
Tips for handling and cooking Chicken:
 Make sure you defrost/store in the fridge on the bottom shelf to prevent leakage. Do not defrost in the mircowave or bench as the chicken will reach a unsafe temperature.
 Avoid cross-contamination by using separate utensils until cooked. Once cooked do not use utensils that were used prior to cooking unless they have been washed thoroughly.
 Cook chicken to atleast 75˚C, use a meat thermometer and insert into this thickest part of the chicken insuring you have reach the desired temperature.
 Make sure there is no blood when your cut into it and the juices are clear.
This recipe was used from food.com:
http://www.food.com/recipe/korean-roast-chicken-thighs-83203
Contact M&M Master Butchers for advice on this product here: