Description
Chicken Stir-Fry
Chicken Stir-Fry is sliced chicken breast that is commonly used in China and has recently spread into Asia. Stir fry consists of white meat and is considered low fat. Cooking this on a high temperature for a short amount of time keeps it from drying out and over cooking.
Stir Fry with Rice Noodles:
Asian Style Chicken Stir-Fry:
Serves 4-6
Total time: 1 hr 5 min

Prep Time: 30

 

min

Cook Time: 35 min
Ingredients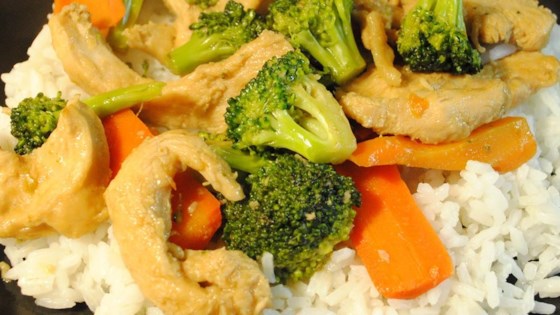 Method
Bring rice and water to a boil in a saucepan over high heat. Reduce heat to medium-low, cover, and simmer until rice is tender, and liquid has been absorbed, 20 to 25 minutes.

Combine soy sauce, brown sugar, and corn starch in a small bowl; stir until smooth. Mix ginger, garlic, and red pepper into sauce; coat chicken with marinade and refrigerate for at least 15 minutes.

Heat 1 tablespoon sesame oil in a large skillet over medium-high heat. Cook and stir bell pepper, water chestnuts, broccoli, carrots, and onion until just tender, about 5 minutes. Remove vegetables from skillet and keep warm.

Remove chicken from marinade, reserving liquid. Heat 1 tablespoon sesame oil in skillet over medium-high heat. Cook and stir chicken until slightly pink on the inside, about 2 minutes per side; return vegetables and reserved marinade to skillet. Bring to a boil; cook and stir until chicken is no longer pink in the middle and vegetables are tender, 5 to 7 minutes. Serve over rice.
Tips for handling and cooking Chicken:
 Make sure you defrost/store in the fridge on the bottom shelf to prevent leakage. Do not defrost in the mircowave or bench as the chicken will reach a unsafe temperature.
 Avoid cross-contamination by using separate utensils until cooked. Once cooked do not use utensils that were used prior to cooking unless they have been washed thoroughly.
 Cook chicken to atleast 75˚C, use a meat thermometer and insert into this thickest part of the chicken insuring you have reach the desired temperature.
 Make sure there is no blood when your cut into it and the juices are clear.
This recipe was used from All Recipes:
http://allrecipes.com/recipe/223382/chicken-stir-fry/
Contact M & M Master Butchers for advice on this: