Description
Free Range Chicken Thigh Fillets
Free Range Chicken Thigh Fillets comes from thigh of the chicken. It has all bone removed however this product has skin on which contains fat allowing the moisture to stay in the thigh preventing it from drying out. Considered a red meat it is still very tender and hard to over cook. These are ideal for cooking at a high temperature as the skin and red meat content keep it moist.
Crispy Skin Chicken Thighs
Baked Crispy Chicken Thighs
Ingredients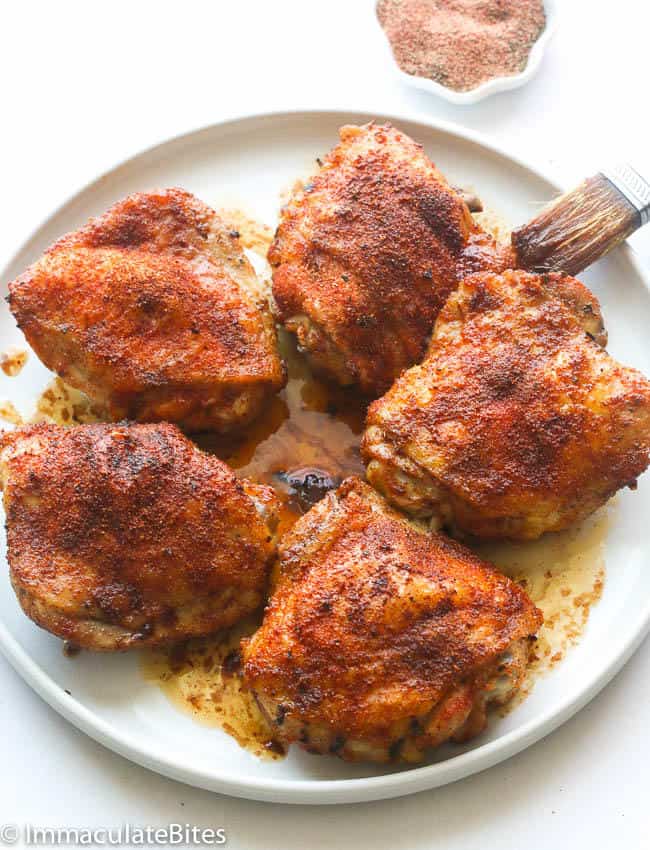 2½  – 3

pound

chicken thighs boneless skin on

 

(about 5-6)

2

teaspoon

creole or cajun spice

2

teaspoon

onion powder

½

 

teaspoon

dried thyme or oregano

1

teaspoon

garlic powder

½

teaspoon

 

white pepper

1

teaspoon

smoked paprika

½

teaspoon

cayenne pepper

½

 teaspoon

bouillon powder

(you may replace with salt)
Method
Wash chicken thighs, wipe with a paper towel. Combine spices and mix well.

Sprinkle both sides with generous amount of the spice blend place them on a cookie sheet in a single layer, you can let them sit in the fridge overnight. Do not cover them; let the air-dry them or proceed with baking.

When ready to bake, preheat oven to 475°.

Bake chicken thighs in the preheated oven starting at 475 degrees for the first 20 minutes then drop to 400 degrees. Bake until skin is crispy, thighs are no longer pink at the bone, and the juices run clear, about 30 minutes. An instant-read thermometer inserted near the bone should read 165 degrees F (74 degrees C).
Tips for handling and cooking Chicken:
 Make sure you defrost/store in the fridge on the bottom shelf to prevent leakage. Do not defrost in the mircowave or bench as the chicken will reach a unsafe temperature.
 Avoid cross-contamination by using separate utensils until cooked. Once cooked do not use utensils that were used prior to cooking unless they have been washed thoroughly.
 Cook chicken to atleast 75˚C, use a meat thermometer and insert into this thickest part of the chicken insuring you have reach the desired temperature.
 Make sure there is no blood when your cut into it, the juices that run should be clear.
This recipe was used from African Bites:
http://www.africanbites.com/baked-crispy-chicken-thighs/
Contact M&M Master Butchers for advice on this product here: